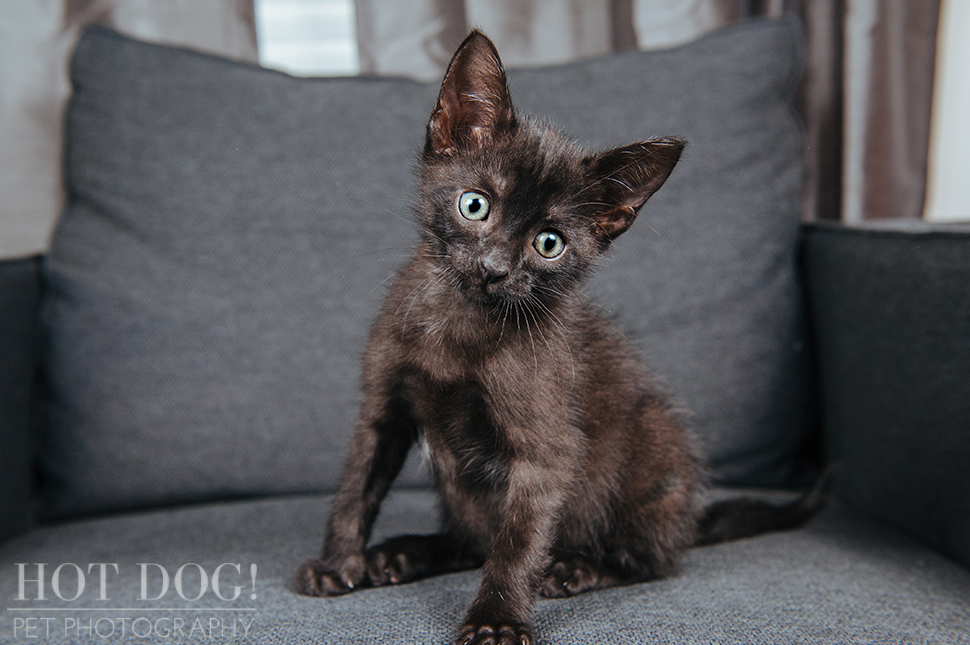 This sweet face is Gucci! His story started out sad, but now he's looking for a home to call his own! His foster mom is a fellow East Orlando resident and has cared for almost a dozen homeless kittens this summer – what a kind heart! Of course, we couldn't resist the chance to play with this little cutie and take his photo. Here's his story!
Hello friends, my name is Gucci. I was thrown in a trash bag on the side of the road. I peeked my little head out and some bright lights stopped and blinded me. Then the sweetest samaritan took us home. Now, my foster family says I am sweet, playful and a lover of all 2 and 4-legged friends. I like to think I'm the best kitten in the whole wide world, but I know I am… they tell me daily. I like long walks in the house, curling up on your chest, my cut up box and climbing places like Spider-Man. I will be ready for my forever home by 7-20. My adoption fee of $60.00 includes 2 sets of kitten shots, deworming and neuter. I know I won't be a fan of the neuter but my foster mom says I can't leave without it. I am 6-7 weeks old and need to get out of dodge… My siblings are all leaving too. Would you be my new family?
If you're interested in adopting Gucci or know someone who might be, please contact us and we'll provide the foster family's contact information!