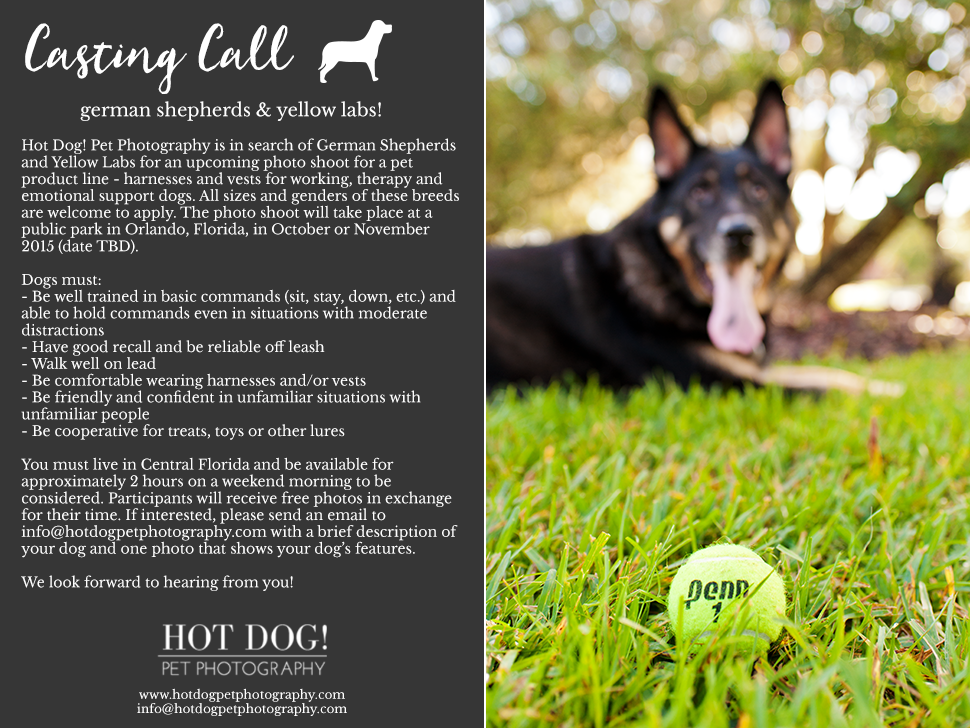 Hot Dog! Pet Photography is in search of German Shepherds and Yellow Labs for an upcoming photo shoot for a pet product line – harnesses and vests for working, therapy and emotional support dogs. All sizes and genders of these breeds are welcome to apply. The photo shoot will take place at a public park in Orlando, Florida, in October or November 2015 (date TBD).
Dogs must:
Be well trained in basic commands (sit, stay, down, etc.) and able to hold commands even in situations with moderate distractions
Have good recall and be reliable off leash
Walk well on lead
Be comfortable wearing harnesses and/or vests
Be friendly and confident in unfamiliar situations with unfamiliar people
Be cooperative for treats, toys or other lures
You must live in Central Florida and be available for approximately 2 hours on a weekend morning to be considered.
In consideration for your time, you will receive:
1 to 2 hour session (a $225 value)
1 complimentary 8×10 photo print (a $50 value)
Low-res watermarked digital files to share online (a $75 value)
If interested, please send an email to [email protected] with a brief description of your dog and one photo that shows your dog's features.
Note: All participants must sign a model/ property release and sign our photo agreement to receive their free images!
We look forward to hearing from you!